The Education & TrainingCareer Cluster focuses on preparing students for employment in careers that relate to the planning, managing, and providing education and training services, and related learning support services.
There are two Career Pathways offered through this career cluster which include:
Teachers certified in early childhood education work with children from birth through age eight to build comprehension in basic content like the alphabet and addition. Early childhood educators are needed to help young students meet developmental milestones or receive early intervention. According to the Bureau of Labor Statistics around 39,100 early education jobs will open through 2024.
Elementary education tends to be a  recession-proof job where having licensed teachers to monitor kids' progress, grade their assignments, and address their learning challenges will always be needed. Employment in elementary education is projected to jump by 6 percent to approximately 78,300 new positions through 2024.
Certification to teach older students in grades 6-12 also has a positive job outlook.  It is projected that secondary education will blossom by 6 percent for 92,700 jobs by 2024. Middle and high school teachers teach more rigorous lessons in single-subject classes to prepare adolescents for vocations or college. 

Future Business Leaders of America (FBLA)

Future Business Leaders of America is an extracurricular student organization that provides students with opportunities for leadership, community involvement, business partnerships, and competition with other students in business related events. FBLA's mission is to bring business and education together in a positive working relationship through innovative leadership and career development programs.
National FBLA website >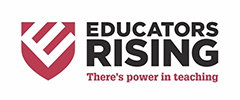 Educators Rising is a national membership organization for aspiring teachers and their mentors. If you are leading or participating in a school-based program that helps young people explore teaching — in secondary or postsecondary — consider joining Educators Rising to connect with peers and experts around the country who are focusing on the same issues and challenges.
National Educators Rising website >