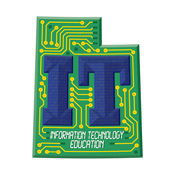 Information Technology Education
Information Technology (IT) Education prepares students for employment and/or continuing education opportunities in the growing field of Information Technology in partnership with industry.
This is accomplished through technical instruction in the classroom, experiential education in the laboratory, student internships, and industry/skill certification. IT education programs also encourage and promote teamwork, lifelong learning, hands-on experience, ethical behavior, and communication skills.
There are three Career Pathways in the area of Information Technology which include:
According to the Bureau of Labor Statistics, employment of computer and information technology occupations is projected to grow 12 percent from 2014 to 2024, faster than the average for all occupations. These occupations are expected to add about 488,500 new jobs, from about 3.9 million jobs to about 4.4 million jobs from 2014 to 2024, in part due to a greater emphasis on cloud computing, the collection and storage of big data, more everyday items becoming connected to the Internet and the continued demand for mobile computing. For more information on careers in Information Technology, please visit Utah Futures.

Future Business Leaders of America (FBLA)

Future Business Leaders of America is an extracurricular student organization that provides students with opportunities for leadership, community involvement, business partnerships, and competition with other students in business related events. FBLA's mission is to bring business and education together in a positive working relationship through innovative leadership and career development programs.